As your child comes to the age when their classroom lessons begin to become more important, it's important for you to encourage them in every way that you can. While studying and paying attention to their teachers is obviously important to their development, it's also important to let them have a little bit of fun!
As we all know, young children's attention spans are incredibly short, so having them recite passages in a book, or listen intently to a lecture, is a surefire way to have their minds wander and the information to be lost. At My Lil' Town, we're firm believers that the best recipe for their academic success is to add a healthy dose of fun to their education. As such, we're incredibly proud of our kids' play area in Granada Hills and the fact that we help children learn with big smiles on their faces.
In this blog post, we'll discuss how having fun while they learn benefits their development and can help them become better students. If you would like more information about our indoor playground, go ahead and give us a call! Better yet, why not come see it for yourself! Bring your children and get to know your child's new favorite place to play!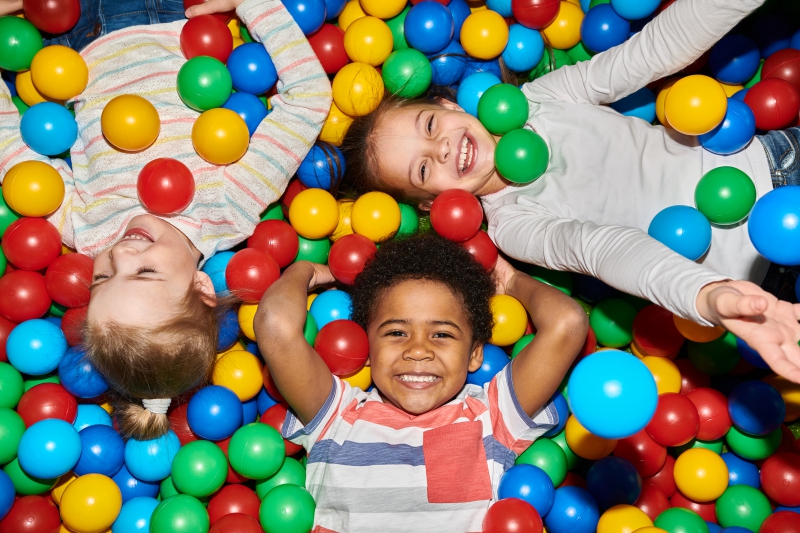 Imagination
There's something magical about a child's imagination. They can make anywhere that they go into a place of wonder and make even the most boring situation a good time. This imagination helps them to role play with their friends, which in turn helps them learn about the world around them as well as strengthens their critical thinking skills. All of this will help them in the classroom and make them the best students that they can be.  
Socializing
Learning how to interact with their peers is a very important skill for them to have, not only at their young age, but all throughout their lives. While playing at our kids' play area in Granada Hills, they won't even have to think about how to socialize with the other kids, because they will all be having so much fun while they learn! Whether they're learning about the importance of law enforcement at My Lil' Police Station or learning basic financial skills at My Lil' Bank, they will be meeting new friends and sharing great times together at our play center.  
Behavior
As every parent knows, children are chock full of energy and when combined with their short attention span, it's nearly impossible for them to sit and focus on their school work. Our indoor play area is the ideal place to let them get rid of their pent up energy! From running around and interacting with all of our Lil' stations, to climbing on our rock walls or playing on our jungle gym, you don't have to worry about their excess energy!
Health
Along with their mental health, your child's physical health is a priority. For children over the age of two, it is recommended for them to partake in at least an hour of physical activity each day. In this day and age, this has become increasingly difficult through their obsessions with phones and tablets, but not impossible! We promise that when they walk through the doors of our indoor playground, those screens will be the last thing on their mind!
Come By Today!
When your child is happy, they're more willing to learn new things! Fun and education do not have to be separate from each other, in fact, it's much better to have a good balance of learning and fun! That's the basis of our kids' play area in Granada Hills. Not only will your child be having the time of their lives, but they will be learning a variety of lessons that aren't always included in their schoolbook! From learning how to shop for groceries and check out at My Lil' Supermarket to pumping gas into a vehicle at My Lil' Gas Station and so many more educational stations, you can rest assured that your child will be learning and having a great time at our safe, clean, and innovative indoor playground.
Would you like more information or want to book a time to throw your kid an incredible birthday party? Drop by, contact us, or book online now! We're so excited to have our doors open and look forward to seeing you and your young one soon!